If you are interested in knowing how to earn money online by Web Development without coding skills, in this article we will tell you that it is possible. In this article, we will tell you the best method of making websites for your clients without coding.
How to create free website without coding?
Today it is possible to create web pages without having to be an expert , and without much suffering. You don't need to be a programmer or fully understand concepts like HTML, CSS or FTP.
In fact , there is a much better way and I want to tell you before you continue reading about creating web pages to earn money online.
I am going to tell you a secret that perhaps you did not imagine.
Currently we have a wide variety of platforms to create websites that offer your to create free websites without coding. How does this happen? The platforms handles everything and you don't have to stress or worry about hosting or complicated installations.
The only thing you will need is a browser ; like Google Chrome, Safari, Firefox or Microsoft edge and have a computer with Internet access , of course.
Best Website Builder(CMS) to create a Free Website
There are many website builder are available online. Many of them ask monthly fees. Other which are free, don't have quality themes or tools. But don't worry, I found the best website builder online which is free and have many professional themes, and amazing tools. And that website builder is vq.pe .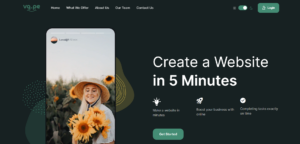 Why vq.pe is Best Website Builder?
Completely Free : vq.pe is completely free for lifetime. There is no any hidden charges.
Instant Website Creation: Anyone can create a website on vq.pe in just 5 minutes.
Stunning Themes: vq.pe provides many professional and stunning themes. You can choose any theme according to your website.
Client's Messages: Your website visitors can message you directly from your website. And you can see all those messages in admin panel of vq.pe.
vq.pe domain extension: For all of your website you will get free .vq.pe domain extension. You can also connect your custom domain on your website.
There are many more features provided by vq.pe and all are completely free. You will know all when you start using this site builder.
Now I know, you are very excited to start creating a website on vq.pe and want to know how to do it. So let's don't waste any time and come to the main point which is creating website on vq.pe.
How to Create Free Website with vq.pe?
Go to website vq.pe.
Create your account. And then login.
After that your will redirect to a page where you can create your website. Just type your website name, select website type and click Create button.
Now your website is created. Let's edit it. Click on My Websites and to edit frontend/theme content, click Edit Frontend button. Now whatever content you want to change, click on that content and a text box will appear. To update new content, replace old content with your content in text box and click Save button.
With backend edit dashboard, you can add and edit many thing. You can add menus, pages, posts, your work portfolio, and many other things.
There are many more features in vq.pe like user messages. In backend dashboard, there is menu name User Messages where you can see all your user messages.
If you still facing problem in creating website, you can watch the video.
So this is how can can create a free website easily. Now I know, the next thing which come in your mind is, How to Earn Money by making Websites? So without wasting any more time, let me explain all best possible ways to earn money by making websites in 2023.
How to Earn Money by making Websites?
#1. Digital Agency
The best way to earn quick money these days is by setting up your own consultancy or digital agency.
I assure. Providing digital services is one of the best ways to get money quickly and with almost no investment (obviously the necessary business knowledge that you will need).
#2. Blogging
Blogs are a great way to earn a source of income for passionate writers. Many people create a blog as a way to express their views or as a creative activity.
You can create a blog on any topic, such as travel , food , or books. Searching for some of the most popular blogging ideas can help you find a profitable niche.
Remember that it is important to have a long-term vision. You won't make money right away, but as your writing improves, your skills grow, and your site gets more traffic, it's a real possibility.
Some common ways to make money from a blog are advertising, affiliate marketing, branding, and selling products.
#3. Affilate Marketing
An affiliate site is based on recommending or reviewing certain products. Then, when a reader buys that product through your link, you will receive a commission.
Although it may not seem like a huge income generator, there are multi-million dollar sites based on affiliate income alone.
For example, Wirecutter was so profitable that the New York Times bought the site for $30 million. There's also Lucieslist , a site about baby product reviews, and Outdoorgearlab , a site about outdoor gear reviews.
To start your own affiliate marketing website, join an affiliate program that fits your site's niche. For example, if you have a blog dedicated to computers and technologies, you can become a Hostinger affiliate . You can also join an affiliate network that offers a wide number of programs like the MyLead affiliate network.
#4. Sell Online Services
You can earn good amount of money by selling services like content writing, logo designs, SEO, Social Media Services, video making and other which you want. Service sector is the biggest online sector which total worth is more than Trillion Dollar.
Frequently asked Questions and Answers
Is the Website Builder is completely free for life?
The website builder which I have mention is completely free for all. There is no any hidden charges. You can start making website anytime and from anywhere. All professional themes are also free to use.
I have domain name how to create website free?
vq.pe provides a free custom domain ending with .vq.pe. But if you want to use your custom domain then you can use it. There is option in backend dashboard where you can add your custom domain.
How to create a website for business for free?
Creating business website is similar to creating any other site on vq.pe. You just need to select theme which suits your business and it's done. Now start adding your business details and data on your website.
How can earn money online without investment?
Above we have mentioned some of the best ways to earn money online. There are no any type of investment required in above mentioned methods. You can start with 0$ in your pocket.
Sites you can earn money online?
There are many sites where you can earn money online using vq.pe like fiverr, freelancer, upwork. On these freelancer sites, you can sell website making services. And you can create website on vq.pe and sell it to your clients from $5 to $500+.
Conclusion
So above we have mention the best possible way to create free website and earn money online by creating website. Now It's all up to you , how much hard work you put in the work. The more time you will give, the more you will earn.